Parenthèse (Interlude)/ page en français

Facebook Page
Feature film 92mn, Red Epic, format 1:1,85, © 2016

Synopsis


Raphaël is 50-something and in a rut. Without telling his wife, he buys a sailboat and convinces his childhood friend Patrick, an eternal teenager, and Alain, a hypochondriac, to go on a tour of the Mediterranean Sea with him. Holidays just like in the old days! The three friends however soon notice that they are not as fit as they used to be and don't really share the same interests anymore. All that changes when they take two much younger women on board who join them on their tour...

Casting


Vincent Winterhalter, Eric Viellard, Gilles Gaston-Dreyfus, Anne Serra, Sophie Verbeeck, Dinara Drukarova, Nathalie Besançon, Stéphane Roger, Theo Costa-Marini, Pauline Acquart, Franc Bruneau, Florence Cuny, Isalinde Giovanglisi, Luca Cimma, Cristiano Caccamo, Piero Brogi, Stan Carotenuto, Laurent Desbois, Isabelle Montoya, Raphaëlle Dubois.


Script : Hervé & Bernard Tanguy
Direction : Bernard Tanguy


Coproduction Rezina Productions, Maje Production, LaClairière Production, Garance Capital, CB Partners.
In partnership with the French CNC and Movies Angels

Original music Stupeflip


Shooting august-september 2013 / Paris, Le Lavandou, Port-Cros, Porquerolles

Press release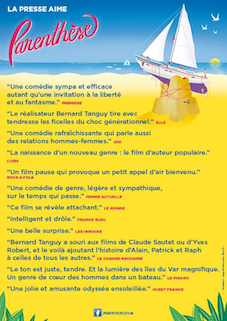 News

Available on DVD and on VOD. Bonus : the Original Score by Stupeflip.

- screening at the Russian Festival of Niort (13rd of March 2017)
- screening at the Cannes RCC Festival (11-17 Dec 2016)
- the French release is scheduled on the 20th of July 2016
- the film has been screened in Paris at the French RV d'Unifrance
- The film has been selected at the International Hof Festival in Germany and at the 20e Rencontres du Cinéma de Vence
- The actress and director Agnès Jaoui brings her support
- The film raised money from Movies-Angels.
- Stupeflip has made the music score.

Trailer

Clip for Movies Angels (Crowdfunding, in French only)